OVERVIEWS
PRO USB is the world's first high-end decoder DI that uses a USB-C input terminal to connect mobile phones and computers. It can not only decode lossless music, but also read DSD format streaming music formats.
DESCRIPTION
PRO USB is a passive DI box specially designed for mobile devices. It is compatible with Windows, Mac OSX, iOS and Android systems. It does not require any drivers to achieve plug and play. It can be used as a signal impedance matcher for mobile devices and built-in headphone amplifier and volume control.
PRO USB is the first to use TYPE-C as the terminal to connect to mobile phone and computer.
The USB audio decoder combines Com True CT-7601SR and Cirrus Logic CS-43131 to achieve 192KHz/32bit performance, and are compatible with DSD digital formats and all common lossless and compressed music formats.
The PRO USB has a pair of built-in UNiKA-PRO
TM
EI9AE3R3 1.25:1 isolation transformer for each channel isolation transformers. The transformer has a special copper foil layer and a dedicated grounding layer, which can ensure the high signal/noise ratio and dynamic sound of the device, and avoid unnecessary Leakage caused by radio frequency interference, grounding interference and potential difference. PRO USB is especially suitable for mobile phone, computer and media player. It converts high-impedance signals into low-impedance balanced signals, which is convenient for extending the wiring distance and blocking interference.
PRO USB has built-in mini TRS headphone monitor output and monitor volume control, which can drive 16Ω~600Ω headphones.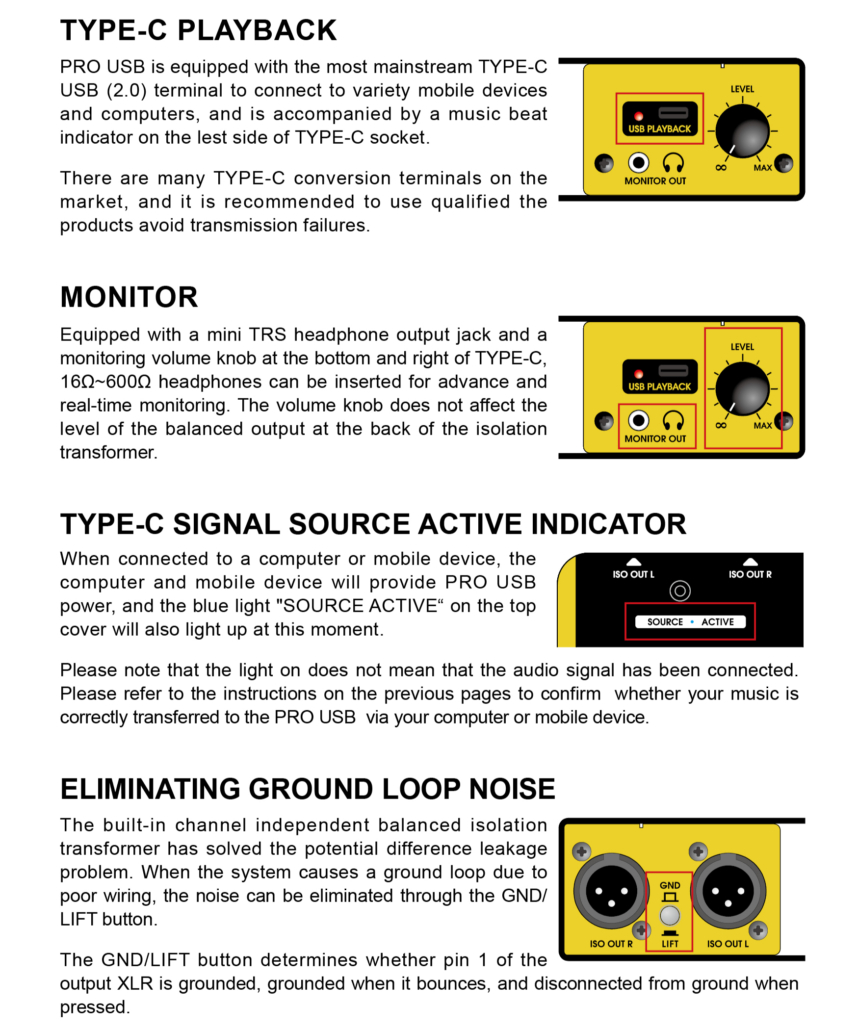 FEATURES
Built-in UNiKA-PROTM EI9AE3R3 1.25:1 isolation transformer for each channel
Built-in CT7601 USB bridge and CS43131 DAC with headphone amplifier
32bit convert rate and 192KHz over sampling
Compatible with Windows, Mac OS, iOS and Android systems.
Compatible with DSD digital formats and all common lossless and compressed music formats.
Mini TRS jack used to connect earphone or headphone with volume control
Built-in Type-C USB digital audio input connector
The output is equipped with a GND/LIFT switch
SPECIFICATIONS
PRO USB
Circuit principle
Passive/Transformer balance output
USB Version & connector
Ver 2.0 Type- C
UAC bridge solution
32bit/192KHz
DAC solution
32bit/192KHz with 2x DSD
Power supply
Powered by PC or mobile phone throuth Type-C
playback connector with LED status indicator
Music beat indicator
LED
Output connector
2 x Male XLR through ISO Transformer
Output GND/LIFT switch
Shared push button
Max Output level
0.778Vrms
Headphone power output
30mW per channel into 32Ω
5mW per channel into 600Ω
Frequency response
20Hz-20KHz, ±0.5dB
S/N ratio @20Hz~20KHz un-weight
>110dB
T.H.D. @1KHz 0dBV output
<0.005%
Transformer Ratio
1.25:1
Chassis
1.6mm/1.2mm steel cabinet and chassis
Surface finished
Durable complex painting
Dimension (W x D x H)
78 x 124 x 46 mm
Weight
0.64Kg
Shipping weight
0.67kg
Packing per carton
20pcs/14.00Kgs
Shipping dimension per carton
305 x 283 x 195mm